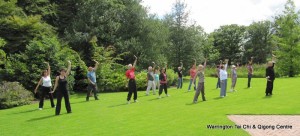 World Tai Chi Day 2014.
       Saturday 26th April from 11am
Alexandra Park, Stockton Health. WA4 2UT
Join us for another brilliant Tai Chi  session in the beautiful surroundings of Alexandra Park Stockton Heath, Warrington www.ourpark.org.uk
As usual this promises to be another great Tai Chi event. Come along, bring a friend or two and join in or just watch the patterns of flowing exercises being performed.
Where you can energize yourself and boost your Qi levels. There will be demonstrations along with activities for you to join in with, Come and have a go its all FREE courtesy of the Warrington Tai Chi Qigong Centre, suitable for people of all ages and fitness levels from 8 to- 80+ yrs.
Here are some routines which you may see being performed: Ba-Duan-Jin / 18 Shibashi / 24 combined forms of Tai Chi / Chen Style Taiji / Liangong Shi-Ba-Fa Qigong / Wu-Qin-Xi (5 animal Qigong practice) / Ma-wang-dui Qigong.    
If you are new to Tai Chi or a past attendee of classes then come along and have a chat, if you feel that afterwards that you would like to try a class then i will have some great discount vouchers available as incentives for you.  
The first 10 new people who asks can collect a FREE class voucher…….