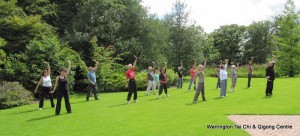 Tai Chi in the beautiful walled garden was another success:  
This was Warrington Tai Chi ~ Qigong Centre second event at the Grappenhall Heys  Walled Garden.
This year 17 people joined the class for what was a super afternoon, where all who participated agreed, were fully exercised, stretched, calmed and inspired, the exercises combined soft stretching movments with deep relaxed breathing.
Part one of the afternoon saw us practicing a selection of Qigong warming up exercises which combined gentle stretching with coodinated movment, these where followed by the Eight Section Qigong Exercises (Ba Duan Jin) for this we did a simplified version of this 900 year old set of exercises which allowed everyone of all abilities to join in.
Part two started with the 18 exercises of Tai Chi ~ Qigong (Shibashi),  this is a great routine to do and which I love practicing especially on these occasions as is suitable for everyone from the absolute beginner to advanced practitioner, irrespective of age or health all are able to join in and obtain the Shibashi healthy effects.
Here are some of the comments received: 
* Felt thoroughly de-stressed and my muscles stretched.
* Most enjoyable and relaxing afternoon with good company.
* Very relaxing and calming.
* Fantastic, I feel calm and energised.
* Would recommend everyone should try this, its amazing, I feel great!
* Refreshed and relaxed.
* A lovely relaxing and inspiring Sunday afternoon, many thanks Paul.
* Very inspiring.
* Relaxed and chilled.
* Great location.
* Looking forward to starting classes.
* Easy to follow instruction found it just at the right level, thanks Paul.
* Brilliant, just brilliant has made me feel great, loved the teaching.
* Thanks Paul for a great session – fresh air, excellent location & weather
   – really good fun doing the routines with so many others.
  Some pictures of the afternoon in the beautiful landscape garden.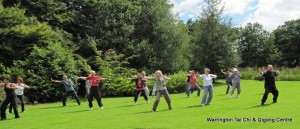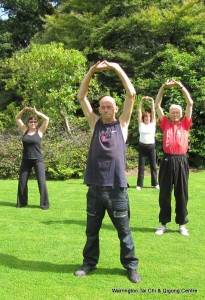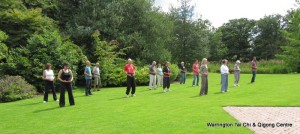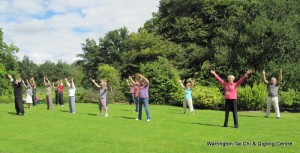 For other events promoted by Tai Chi ~ Qigong Centre why not add this site to your favourites. For class information visit Classes section.