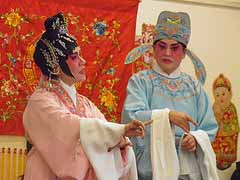 Students and guests gathered at the Bold Street venue for the annual Warrington Tai Chi and Qigong centre's Christmas demonstration 2012, " no one was disappointed with the outcome".
I am pleased to say that all who attended the evening, joined in with the activities which lasted for 1¾ hrs, with routines such as:
* The 18 movements of Tai Chi / Qigong (shibashi)
* Ba-Duan-jin (Eight Section Qigong exercises)
* Chen style Taiji
* Yang style Taiji
* Liangong, Shi-Ba-Fa Qigong (1st set of 18 exercises)
* Wu Qin Xi (5- animal Qigong exercises)
* Closing the evening with a wonderfull 10 minute routine of  "patting the meridians Qigong"
   (For an overview of routines visit Tai Chi & Qigong page)
    Comments received from the excellent evening:
 * The demonstration was very inspiring and has given me something-
    to aim for.
 * Was nice to be in the company of such lovely people.
 * A very stimulating and enjoyable evening..
 * A fitting end to an excellent year, thank you.
 * Very inspiring and good fun.
 * A great way to de-stress and to find a moment of calm.
 * I was surprised! I was able to join in with most of the exercises to-
     the end at my age (86). 
 * Really enjoyed the whole evening.
 * A really good mix of demonstrations & join in routines.
 * Was fascinating to see Paul demonstrate routines, I would love to-   
    learn every one of them.
 * A great session, feeling energized and full of life.
 * Loved the different routines.
 * Great session lots of energy.
 * A very enjoyable way to end the year and with Tai Chi friends.
 * A great way to get to know other people and to see other routines-
    such as the Lian Gong.
 * Paul is an excellent role model at what can be achieved with practice-
    and enthusiasm.
  
   A Big, Big Thank you to all who attended the evening making this  another excellent Tai Chi success at Warrington Tai Chi Qigong Centre.
Classes resume at Bold Street venue January 10th 2013. Beginners class 7-8pm followed by intermeditate 8-9pm. PS: don't forget the present offer 5 classes for £25 get the 6th class for Free.